Clamp Meters
PROVA A11mA AC/DC Clamp Meter
1. Very high resolution DC 1mA, AC 0.1mA.
2. AC/DC (mA, A) current measurement: 6A / 60A.
3. AC/DC (V) voltage measurement: 60V / 600V.
4. AC current measurement: TRMS.
5. Resistance, Continuity, Capacitance, Diode and Temperature (℃/℉) measurement.
6. Voltage/Current Peak value measurement.
7. 6000 counts
8. Auto and Manual ranges for AC mA, AC/DC V, Resistance and Capacitance.
9. One Touch Zero for DCA adjustment.
10. 25mm large jaw diameter.
11. Auto-power-off function (30 min.) and Backlight.
12. Delta (Δ) functions w.r.t. hold value.
13. Dual display: Hold + Ave, Max + Min, ΔMax + ΔMin.
14. Dual display (peak hold): Hold + Ave, Peak Max + Peak Min, ΔPeak Max + ΔPeak Min.
15. Low Pass Filter (LPF, 1KHz, -3dB) (e.g. for VFD measurement)
16. 600V overload protection for Resistance and Capacitance measurement.
17. Ideal for works in crowded switch box or cable areas.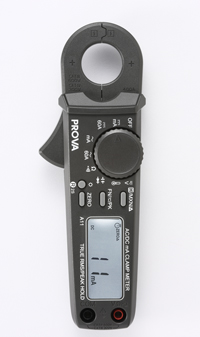 CAT III 600V, CAT IV 300V
Online Inquiry
Data Sheet Download
規格下載
规格下载
Go Back