Clamp Meters
PROVA A5+AC/DC TRMS Pocket Size Clamp Meter
1. Best resolution of AC 0.1mA, DC 1mA, and wide range of AC/DC 400A
2. AC 200.0mA/4.000A/40.00A/400A, DC 4.000A/40.00A/400.0A.
3. Accurate and solid AC/DC mini pocket-size clamp meter
4. Best accuracy ±2%±3dgts for all ranges
5. True RMS measurement
6. One touch zero (Δ) for DCA adjustment.
7. 25 mm diameter jaws.
8. Non-Contact Frequency Measurement (min. sensitivity 0.03 ACA)
9. Sensitivity for 50/60Hz is AC0.01A typical at 200mA range
10. In-Rush Current Measurement with 100mS integration time
11. Non-Contact Voltage (NCV) Detection from 80V to 600V at 50/60Hz
12. Low Pass Filter (LPF) at 1 KHz Cut-off Frequency
13. Data Hold function, Maximum and Minimum Functions.
14. Large 3 3/4 digits LCD.
15. Fast bar graph display (30 times/sec.) for transient observation.
16. 15 minutes auto-power-off with beeping warning before turning off
17. Backlight with 5 minutes of auto-backlight-off
18. Easy single rotary switch for any function selection.
19. Ideal for works in crowded switch box or cable areas.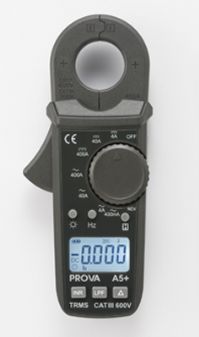 CAT III 600V, CAT IV 300V
Online Inquiry
Data Sheet Download
規格下載
规格下载
Go Back